Shopping Cart
Your Cart is Empty
Thank you for your business!
You should be receiving an order confirmation from Paypal shortly.
Exit Shopping Cart
Welcome to a motley collection of books, articles and songs about the theory and practice of mind and soul, as I understand it from biological science and personal experience.
Biosong means that 'life sings' and we are all invited to sing along! The song each of us sings is unique, but its authenticity derives, not from individuality, but from its harmony with all the other singers.
The books available here grew from my teaching at the University of the Third Age in recent years and my decades of research on stress in animals and humans.

There are also three books of a more personal nature linked at the bottom of this page.
Check out the new, one-page, weekly BIOSONG BLOG​

THE LECTURES ARE DONE (BLOGS 1-21). NOW, A SURPRISE EVERY WEEK . . .
I Said to Myself Wondrous Mind
Paperback, 106 Pages,​ published October, 2021, ISBN 978-0-9943332-2-3

This is just a chat - a dialogue - but it is grounded in the Santiago Theory of Cognition, Informed by Polyvagal Theory, and shaped by Iain McGilchrist's understanding of the divided brain. It touches on consciousness and celebrates kindness and love.
PRINTED COPIES DIRECT FROM ME OR DOWNLOAD IT HERE.​
GET LIFE A Personal Philosophy and Practice
This short book (5000 words) is a summary of the main principles outlined in the longer books, as I have tried to apply them in my own life.
Printed copies are available direct from me or download it here.
Dancing with the Unknown - FEELINGS and Everyday MIND and LOVE
Paperback, 145 pages, published April 2017, ISBN 978-0-9943332-1-6
The important role of feelings in the way our mind makes its meanings is a theme of this book, which revisits the fundamentally new understanding of the human psyche that was initiated by Maturana and Varela's paradigm-changing ideas about the biology of cognition.
MIND and LOVE - The Human Experience

Paperback, 279 pages, published January 2011, ISBN 978-1-4466-4333-4
This is my first, and most comprehensive, book that applies Maturana and Varela's paradigm-changing biology of cognition to our human experience of relationships and life. Here you can read an Outline and the Conclusions and Summary from this book.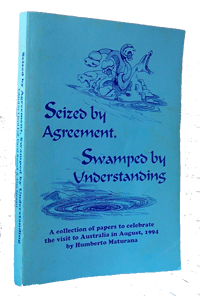 Seized By Agreement, Swamped by Understanding. This book is a collection of papers we put together for a visit to Australia by Humberto Maturana. That was in 1994, but his way of thinking is as relevant to day as it was then.
The individual Chapters are available for Download here.
The lyrics for nearly 100 of my original songs are available here for Download.
Only a few of the melodies have been posted at this time.
Stress: The Musical is a fun workshop - a 45-minute musical play in which a Professor and a Clown sing about what causes stress and what to do about it. Download the lyrics and text.
The Luck of the Fells Download here
Paperback. 117 pages, published May 2020, ISBN 978-0-6468-1796-5
This is a series of stories about the lives of eight of my ancestors, beginning with my cousin, John (born 1923), and ending with my great grandfather, Alfred (born 1817). The idea of the phrase, 'luck of the Fells,' originated from narrow escapes in wartime, but is actually about one's attitude to the opportunities and difficulties that come along in our lives.
The Twin Pines Story Download here

Paperback, 163 pages, published June 2015, ISBN 978-0-9943-3320-9
This book about growing up on our family dairy farm, which was situated near Bellingen, NSW, Australia.
LIFE STRESS LOVE Some Strands of My Life Story Woven Together
Paperback 199 pages, published June, 2022 ISBN 978-0-9943-3323-0 Download here

The adventures of mind, body and spirit related here were important for me. I hope they may also be interesting for my family and friends. May they tell you something about who I am - my peculiarities, my difficulties and my many joys, as I learned about my life purpose.
There are also ​other Short Stories, including Didactic Dialogues, Presentations at Conferences or Workshops and a few Poems.
None of my 160 published scientific articles are here, but there is an old CV in which many of them are listed.
/