Shopping Cart
Your Cart is Empty
Thank you for your business!
You should be receiving an order confirmation from Paypal shortly.
Exit Shopping Cart
Welcome to a motley collection of things written mostly by me about the
theory and practice of mind and soul.
Older U3A writing is still on my Blog Page here, but my efforts lately have been to do with Family History.

The new book, The Luck of the Fells,is a companion to the earlier one, The Twin Pines Story. Both are free downloads.
ISBN (Paperback) 978-0-6468-1796-5 May 2020 117 pages
This is a series of stories about the lives of eight of my ancestors, beginning with my cousin, John (born 1923), and ending with my great grandfather, Alfred (born 1817).
The idea of the phrase, 'luck of the Fells,' originated from narrow escapes in wartime, but is actually about one's attitude to the opportunities and difficulties that come along in our lives.
GET LIFE A Personal Philosophy and Practice
This is my very short, 2019 book - only 5000 words. It's a summary of the main principles outlined in the longer books, with a little bit extra.
Printed copies are available direct from me at no charge and it's also a
free download from here.
Dancing with the Unknown -
FEELINGS and Everyday MIND and LOVE
is my most concise and complete book (paperback, 145 pages, published April 2017, ISBN 978-0-9943332-1-6).
It contains what I think i've learned so far as a human being and a biological scientist. Knowing so little, relatively speaking, has become an asset now.
You can buy it at Lulu.com or at other online bookstores (though at Amazon etc it is considerably more expensive).
MIND and LOVE - The Human Experience

is my most comprehensive book (paperback, 279 pages, published January 2011, ISBN 978-1-4466-4333-4).
You can buy it at Lulu.com or at other online bookstores (though at Amazon etc it is more expensive). You can also get it as an E-book at Barnes and Noble NOOK or at Ibooks.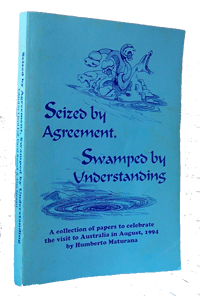 Seized By Agreement, Swamped by Understanding. This book is a collection of papers we put together for a visit to Australia by Humberto Maturana. That was 1994, but his way of thinking is as relevant to day as it was then.
The lyrics for nearly 100 of my original songs are available here for Free Download.
More of the melodies will be added some time.
Stress: The Musical is a fun workshop - a 45-minute musical play in which a Professor and a Clown sing about what causes stress and what to do about it. Download the lyrics and text.
The Twin Pines book about growing up on our family farm is a free download here.

There are also stories of various kinds including didactic dialogues and




presentations at Conferences and workshops and a few poems

None of my 160 published scientific articles are here, but there is an old CV in which many of them are listed.

0

/